912.224.4644
POSTED BY NAE Staff :: January 31, 2011

1 COMMENT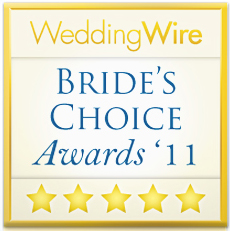 POSTED BY NAE Staff :: December 13, 2009

4 COMMENTS
This weekend Ben Sollee played to a packed venue at Blowin' Smoke in Savannah to raise support for
Oxfam America
and their efforts to fight poverty. If you have followed the
Savannah Music Festival
over the past years, you may have been fortunate enough to see Ben perform with the Abigail Washburn and the Sparrow Quartet. Their albums are produced by Bela Fleck, who is also a member of the group, and composed/arranged by the unconventional foursome thus creating an "intimate exploration of crossing global and cultural lines," says Abigail.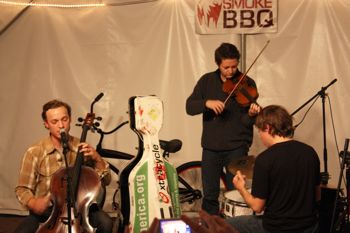 *Photo by Paul Maree
New Arts Ensembles founder and co-director, Ricardo Ochoa, was invited by Ben to perform a few pieces the other evening and it added another impressive element to an already incredible evening. What makes Ben and his crew of 3 others (percussionist, tour manager Katie, and Katie's husband) all with their belongs either strapped to their bikes or en tow behind their bikes. This December they have already travelled over 500 miles touring and raising support for Oxfam. What an incredible inspiration to our country- oh, and did I mention that he is a killer cellist?! Check Ben out
here.
POSTED BY NAE Staff :: December 03, 2009

1 COMMENT
Big smile, dedication and talent are just a few words to describe one of our busiest vocalist. Here he is in a interview today December 3, 2009 on "The Wake-up Call, with Jon Robbins and Jen Steele" BIG 98.3
POSTED BY NAE Staff :: May 21, 2009

1 COMMENT
Every year, Connect Savannah conducts a poll to ask the public who, what and where are the best people, events, and places in Savannah. Ricardo Ochoa, co-owner of New Arts Ensembles was voted "Best Classical Musician" and Roger Moss was voted "Best Local Vocalist" for 2009. This is the second year celebrating this coveted title for Moss and the third year for Ochoa. Silver Lining also received the runner-up title for "Best Local Jazz Band," only to be beaten out by the wildly popular Savannah native Ben Tucker.
Contratulations Ricardo, Roger, Maggie, Jackson and Mark!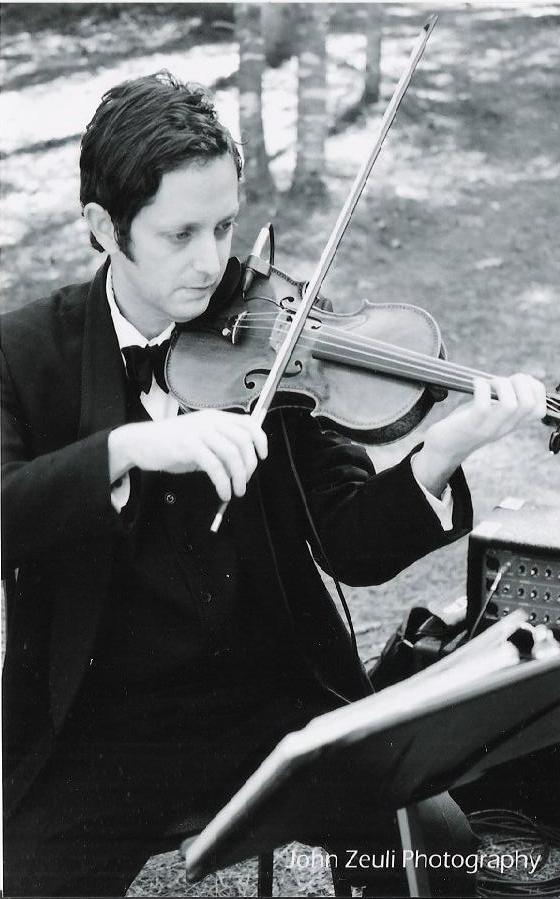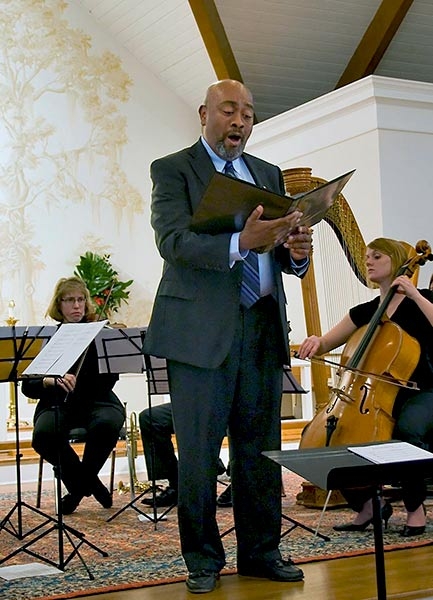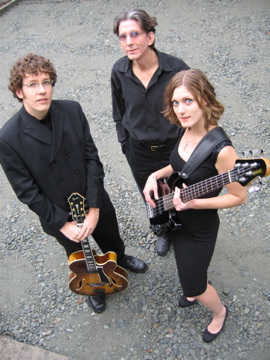 If you have ever been to a local club or bar in downtown Savannah that features live music, you've probably seen Maggie Evans perform. She's commonly known as "the girl bassist" (which automatically gets her a lot of attention) but the moment she plugs in her instrument and begins the opening lyrics to a sultry jazz standard (think: "My Funny Valentine") Maggie has her audience in a trance and the "girl bassist" title goes out the window and is replaced with admiration and awe of her musical abilities. Maggie and her husband Jackson have been part of the New Arts Ensembles community of musicians for over 5 years and their well-known trio, Silver Lining, continues to grow in popularity.
However, what you wouldn't know if you were watching Maggie's performance at a lounge or a wedding reception is that she is an accomplished artist with an incredible understanding of her work: where it has come from and where it is going.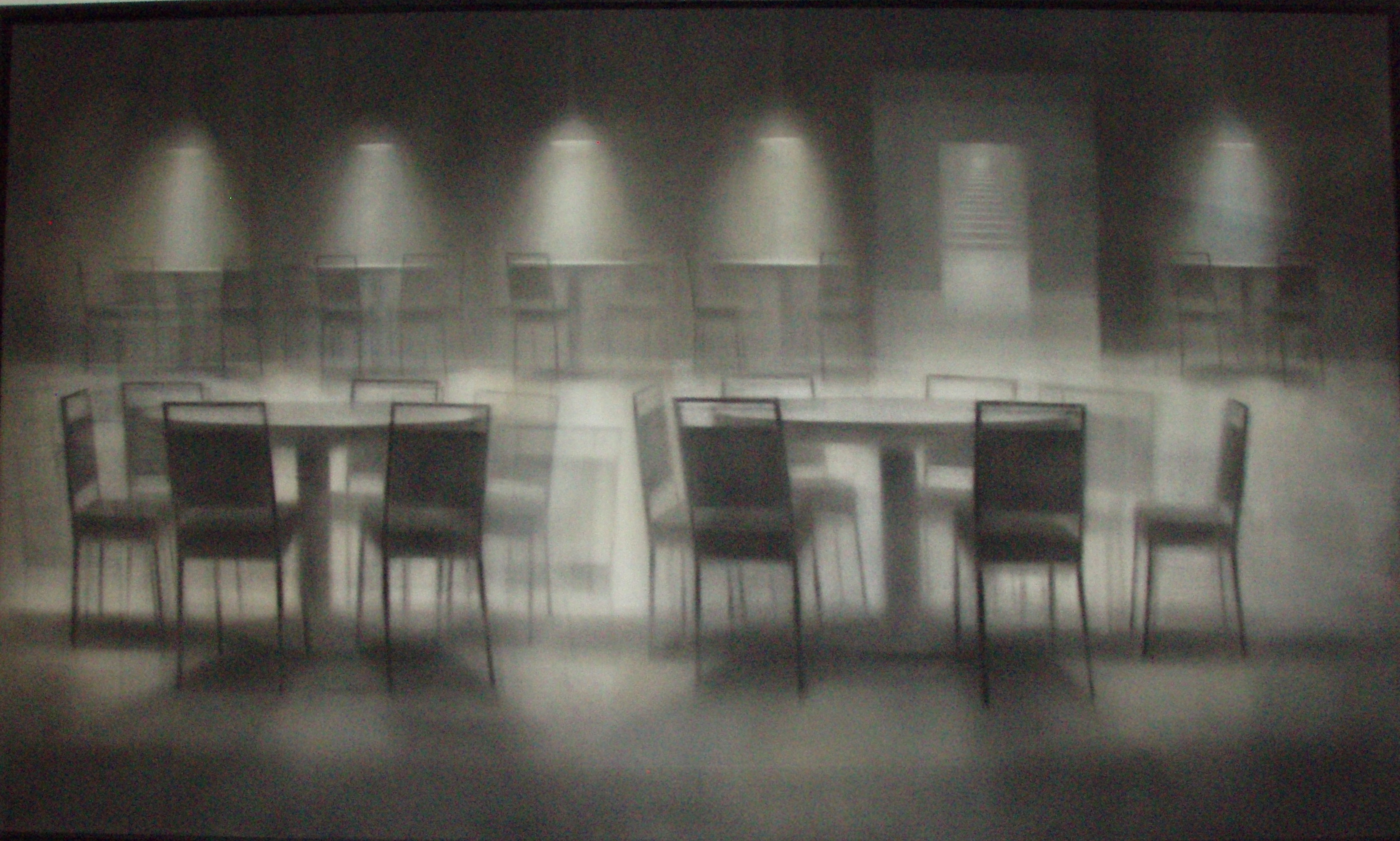 Maggie Evans was born in Denton, Texas in 1980. She graduated from Utah State University with a BFA in Illustration in 2003 and received an MFA in Painting from the Savannah College of Art and Design in 2007. She received Best In Show at the Telfair Arts Fair in 2008 and her work is shown at a number of local and national galleries.
Upcoming exhibits include:
August 7 at Mason Murer Fine Art in Atlanta
September (entire month) solo exhibit at Estel Gallery in Nashville
Judith Costello Gallery in Hilton Head
This past weekend, Maggie participated in Savannah's Open Studio Sunday where local artists open their private studios for visitors can view artist's work space and get to know them on a more personal level.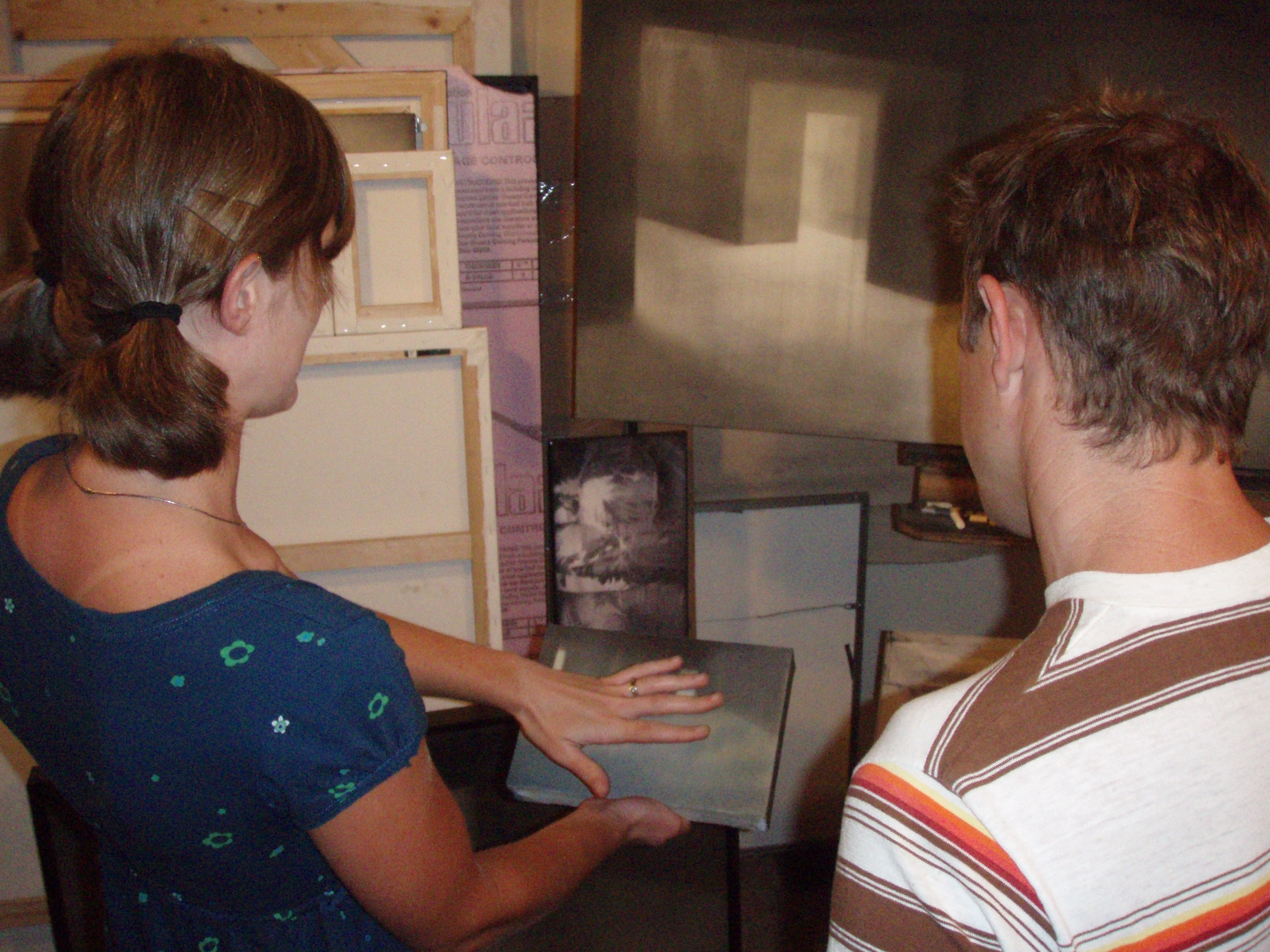 The Open Studio ran from 12:00-5:00 on May 17th and featured over 30 artists. In keeping with a tradition which started a few a years ago, artist Morgan Santander hosted the after party at his home/studio. Maggie and Jackson were the musical entertainment and captured the attention of every person who walked in the room. It was the perfect way to end a day that has so much focus on local artists, their visions and inspirations, and their influence on the community of Savannah and beyond.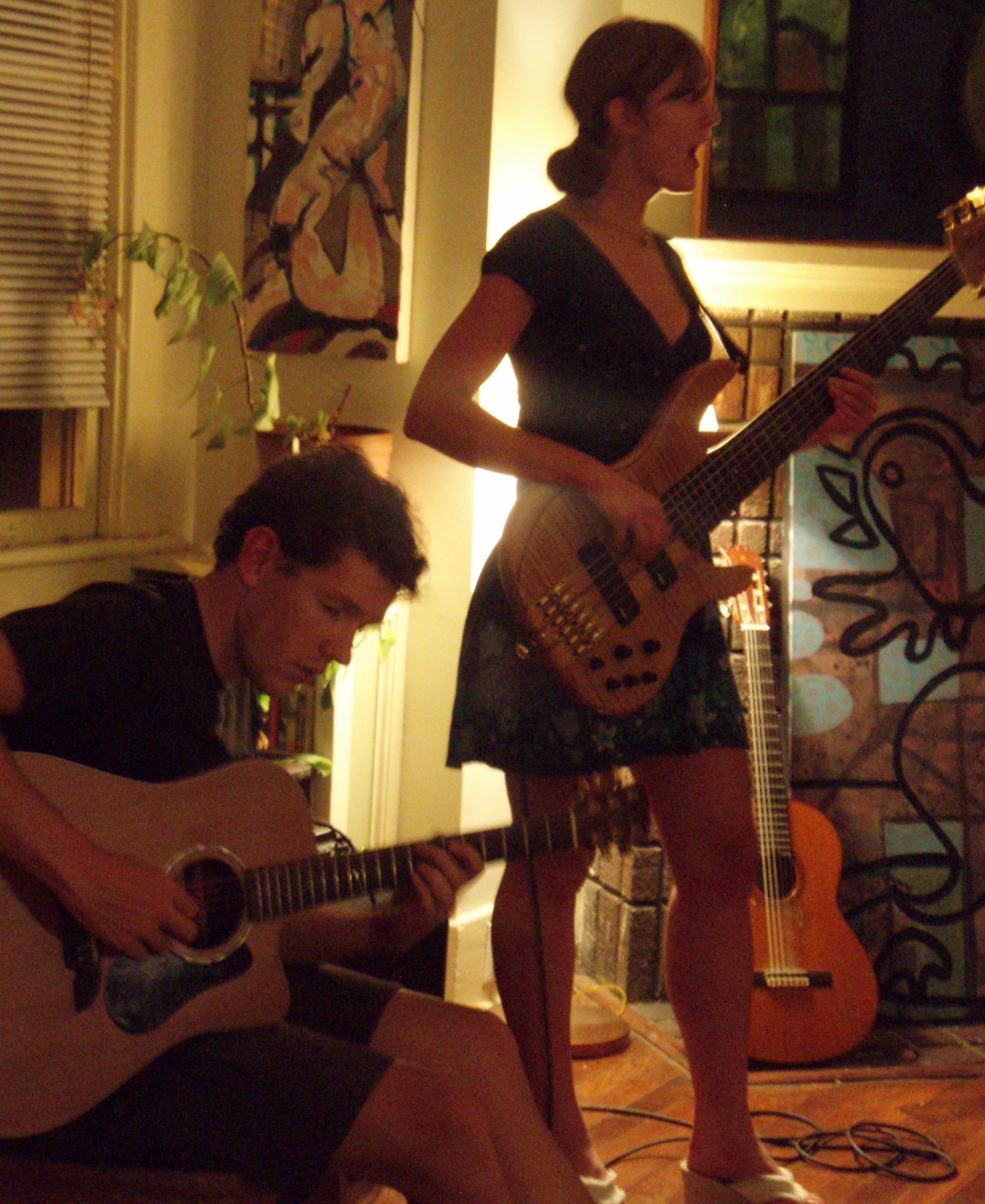 Silver Lining performs every Friday at the Casmir Lounge at The Mansion on Forsyth from Park from 9:00-Midnight and can be heard at a number of local establishments including Blowin' Smoke, Isaac's, and The Mercury Lounge. Our Event Calendar is constantly being updated, so check in for infomation on their upcoming shows.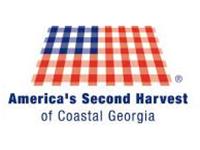 A number of incredible people who work with us at New Arts Ensembles recently participated in an amazing fundraising event for America's Second Harvest of Coastal Georgia. The Jewels & Jeans event raised over twice as much as the previous year, and with the help of some very talented (and generous) contributions, such as Amy Harvey with Harvey Designs , Beachview Tent Rentals, photographer Emily Adams, locals restaurants and caterers (Lady & Sons, Uncle Bubbas Oyster House, Lulus's Chocolate Bar, Mrs. Wilkes, and Chu's Liquor and Wine to name a few) working along side with our creative committee, everyone had a amazing evening!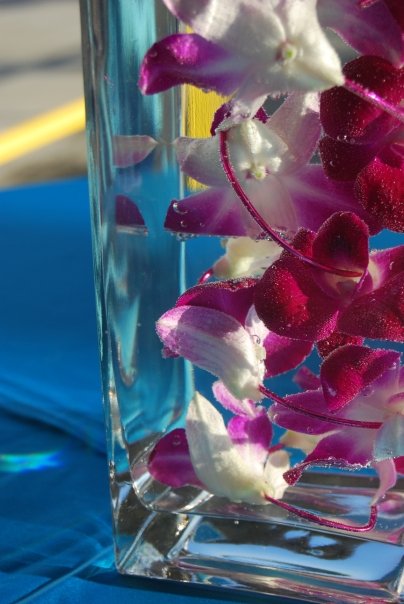 Sponsorship was provided by Infinity, St. Joseph's Candler, and The Coastal Source- WJCL and Fox News 28. A live interview took place at the event and here's what Jennifer Beal had to say:
"Dress them up or dress them down, it's hard to go wrong with jeans and jewels. The Second Harvest Food Bank's annual fundraiser "Jeans and Jewels" was held tonight. The event gives the community a chance to check out the facility on East President Street and how they work towards ending hunger.
Some of the highlights included appetizers from many different restaurants, live music, and a silent auction featuring everything from an autographed copy of Madonna's "English Roses" to artwork from local and international artists. The money raised will help stock the bank for the summer months.
"There are 21,000 children that qualify for free or subsidized meal programs while they're in school, so when they're not in school the question is where they are getting their nutritious balanced meals. Second Harvest is able to deliver those meals to families and those children," says Kristin King."
The Second Harvest Food Bank serves about one hundred and 30,000 people each year.
Copyright 2009 The Coastal Source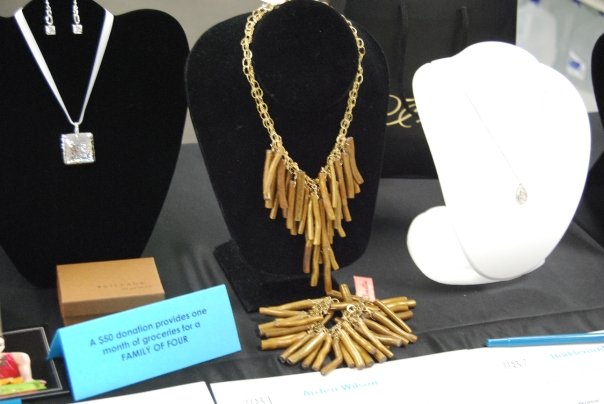 Gorgeous jewelery was donated for auction...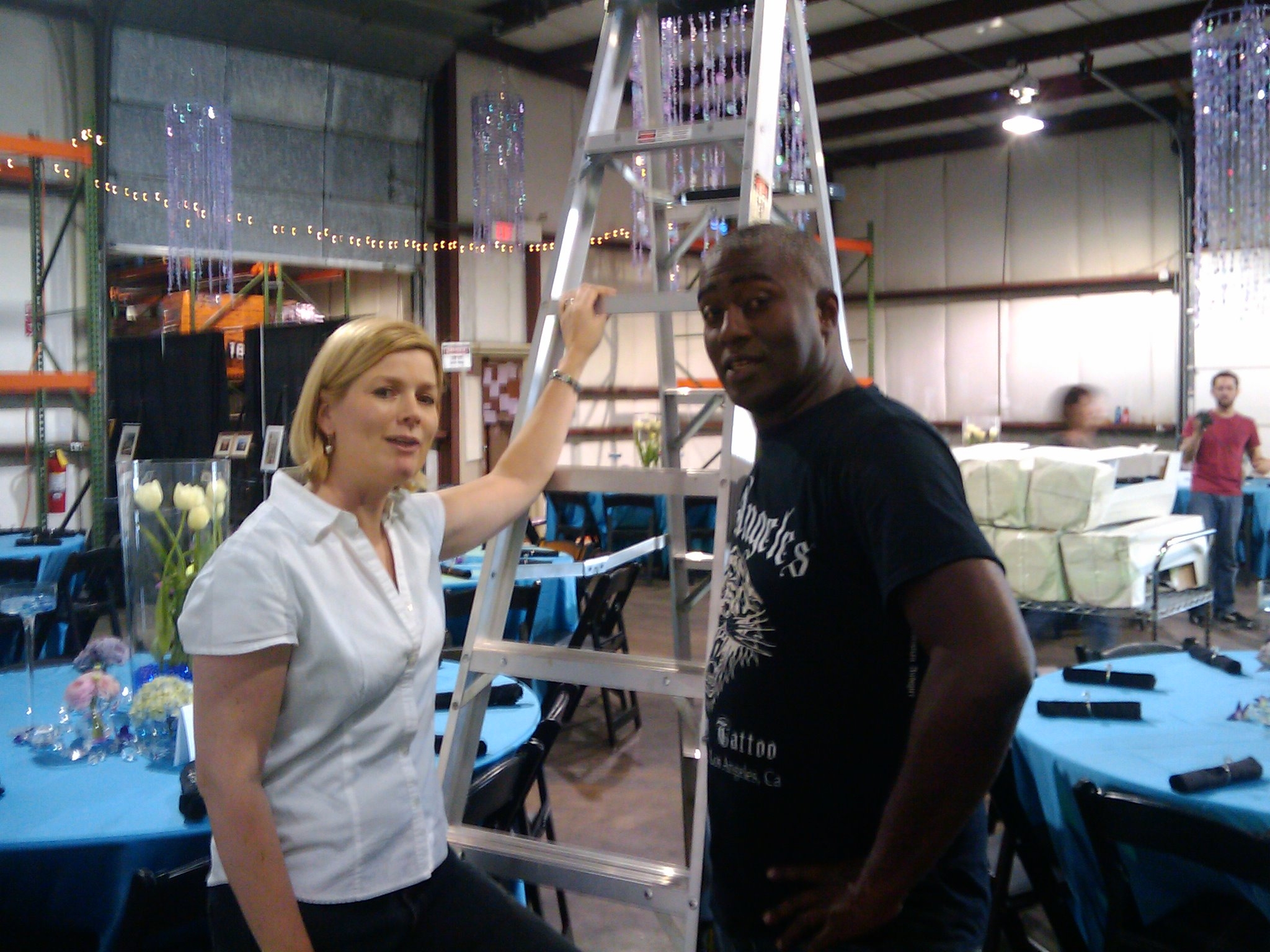 ...and everyone had a great time helping with the set-up! Above: Kimberly Barnhill of Sea Island Bank, committee member and chairperson for the event, and Tony Clarke of The Clarke Group in Atlanta, helped hang the chandeliers designed by Amy Harvey while Ricardo Ochoa worked on lighting design.
New Arts Ensembles provides the programing for the monthly series "Jepson Live" at the Jepson Center for the Arts in downtown Savannah. Last evening we produced a wonderful show featuring classic Tango music as well as local dancers. The event was one of the best attended of this series and many of the patrons were bold enough to attemempt a dance or two with the professionals...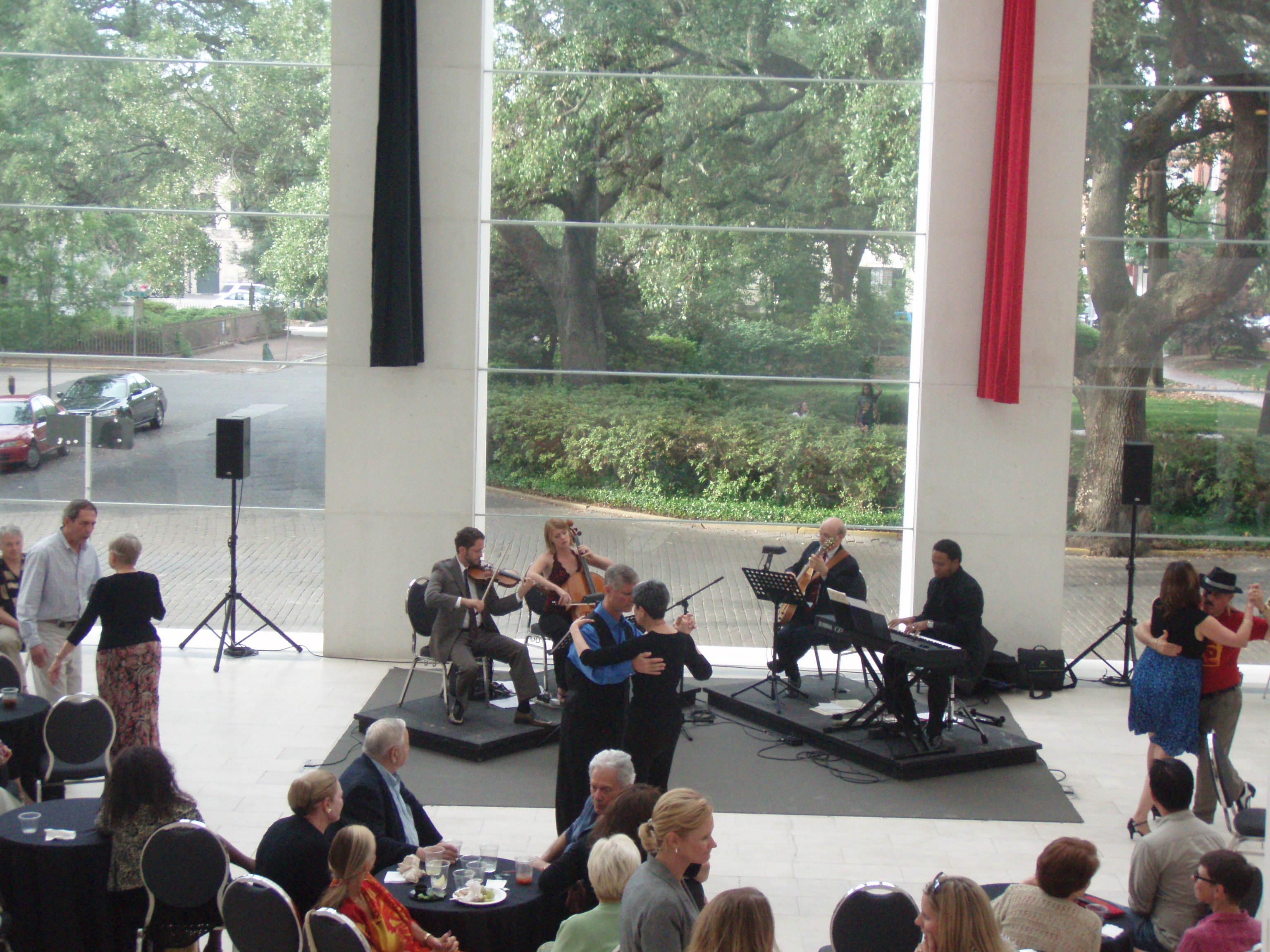 Ricardo Ochoa: Violin
Annelise Nelson: Cello
Bruce Spradley: Guitar
Eric Jones: Piano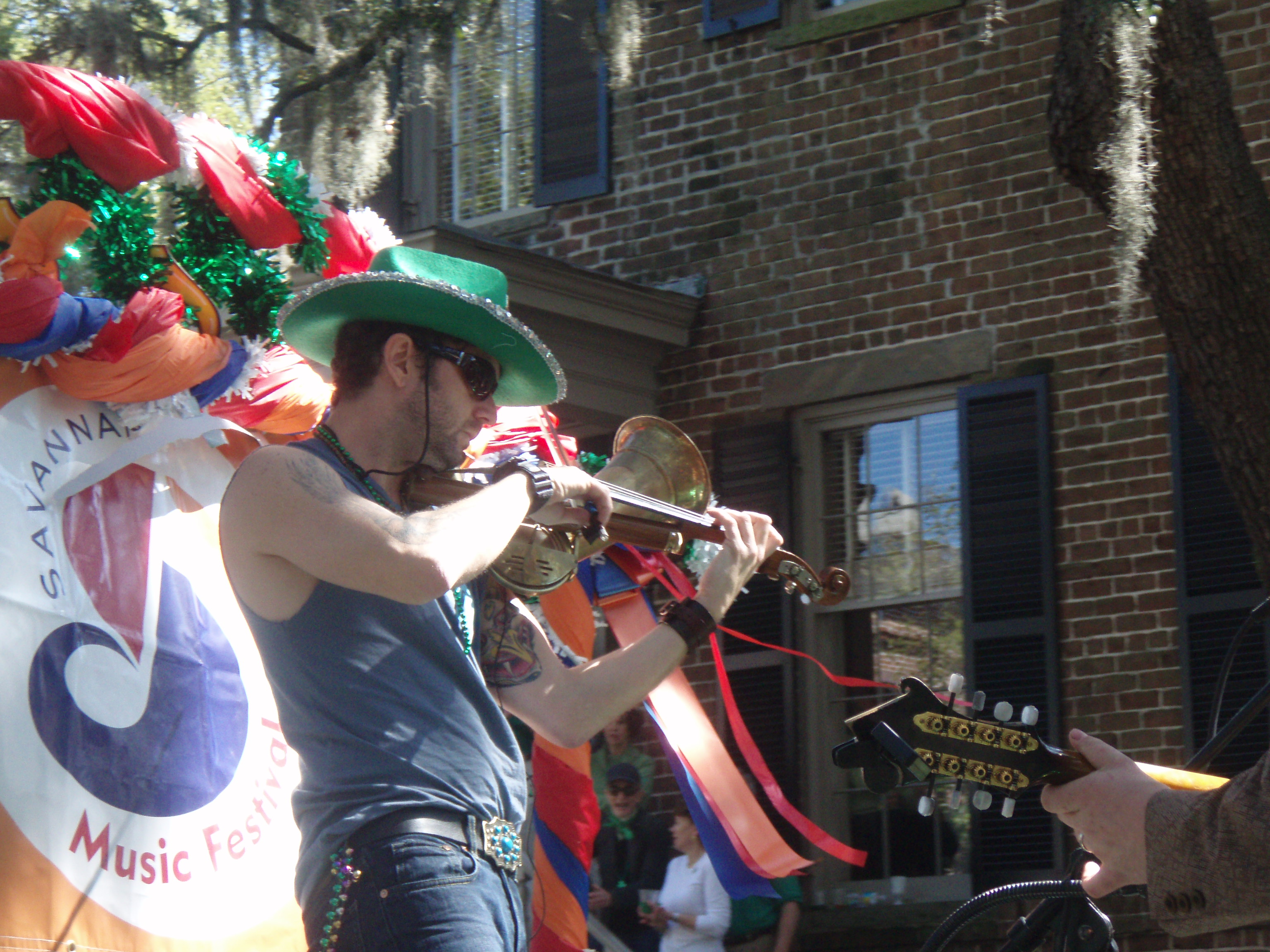 Ricardo Ochoa, Founder and Co-Partner of New Arts Ensembles, joined the talents of the Jeff & Vida Band and rocked out on the Savannah Music Festival's St. Patrick's Day float. The parade was the perfect kick-off for this world famous international festival, which begins March 19th and ends on April 5th. Check in for behind-the-scenes news and photos of some of the greatest musicians in the world.
POSTED BY NAE Staff :: December 16, 2008

4 COMMENTS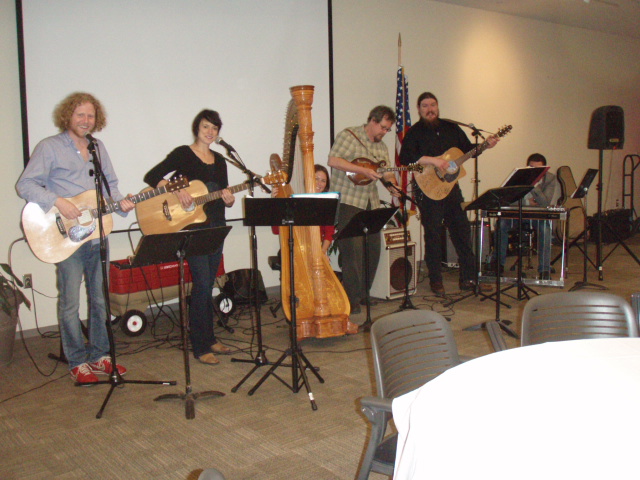 This evening I was honored to be a part of a really incredible program that is happening at every single children's hospital across the entire state of Georgia. Songs for Kids invites local musicians to join them in their mission to enrich the lives of children in need through music. I joined Josh, Arum, Tony, Joe and Igor to play for the Holiday Party, sponsored by J.T. Turner Construction. Kids came up to sing with us (and man, they had some great voices!) and everyone truly enjoyed the evening.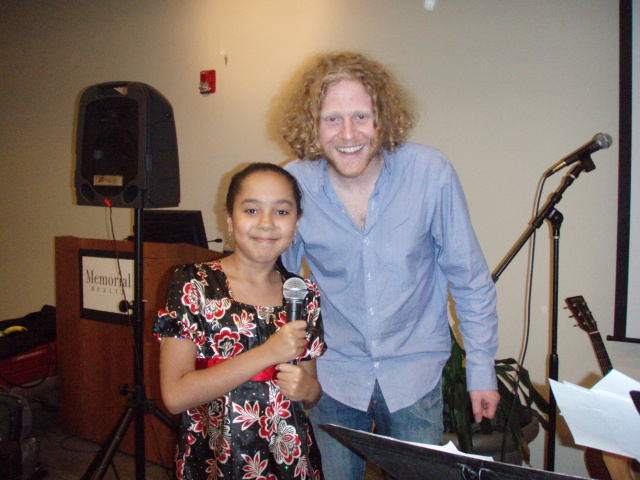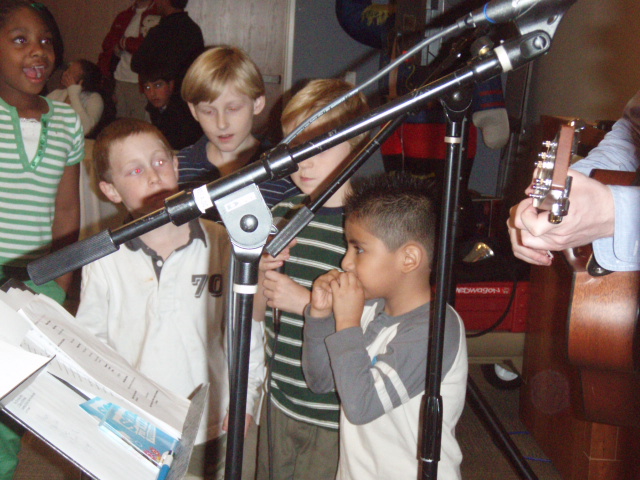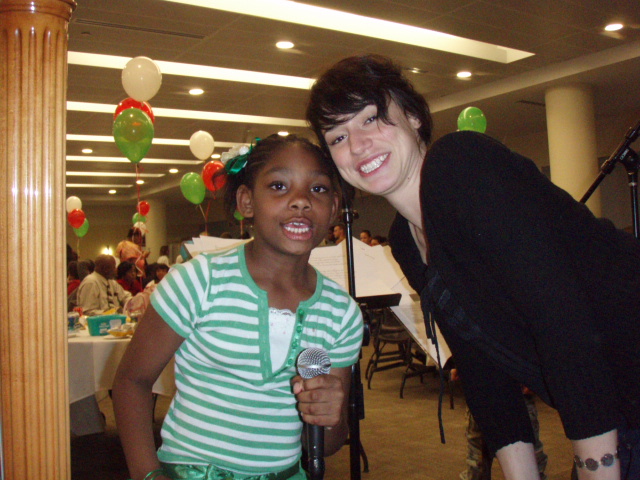 POSTED BY NAE Staff :: December 16, 2008

0 COMMENTS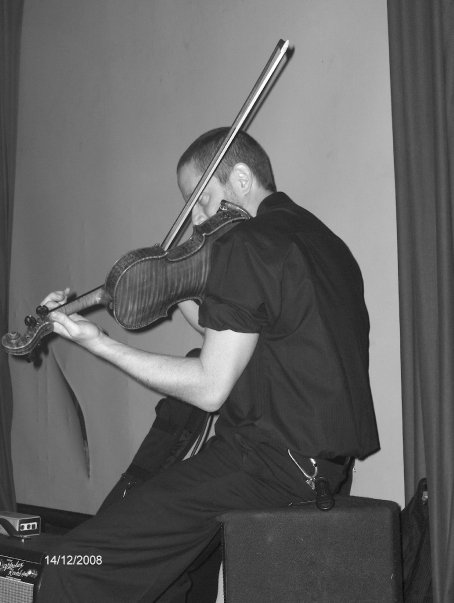 Ricardo joined a local band for a great show at the Jinx on Saturday night!
POSTED BY NAE Staff :: December 03, 2008

0 COMMENTS
I had the honor of playing for a Philanthropic Educational Organization fundraiser this afternoon and it was such a great event! High Tea was served at 4 PM while women circulated the room in clothing from Carol's of Savannah. P.E.O. is a philanthropic organization where women celebrate the advancement of women; educate women through scholarships, grants, awards, loans, and stewardship of Cottey College; and motivate women to achieve their highest aspirations.

It was truly wonderful to be a part of such a worthy event and everyone who attended had a incredible time. The committee prepared and served all of the food themselves, and the "flights" of tea came from the oh so famous Savannah Tea Room. The Empire's Bride is my personal favorite, as were the tea sandwiches with chicken, blue cheese, spinach and cranberry preserve. Delicious!
POSTED BY NAE Staff :: November 29, 2008

0 COMMENTS
This weekend, New Arts Ensembles was honored to produce the musical entertainment for the Savannah Holiday Frolic, hosted by the CVB. Broughton Street was closed off to traffic as Savannah's Historic District came alive with the sights and sounds of the holidays.