912.224.4644
Ben Sollee plays Savannah
POSTED BY NAE Staff :: December 13, 2009

4 COMMENTS
This weekend Ben Sollee played to a packed venue at Blowin' Smoke in Savannah to raise support for
Oxfam America
and their efforts to fight poverty. If you have followed the
Savannah Music Festival
over the past years, you may have been fortunate enough to see Ben perform with the Abigail Washburn and the Sparrow Quartet. Their albums are produced by Bela Fleck, who is also a member of the group, and composed/arranged by the unconventional foursome thus creating an "intimate exploration of crossing global and cultural lines," says Abigail.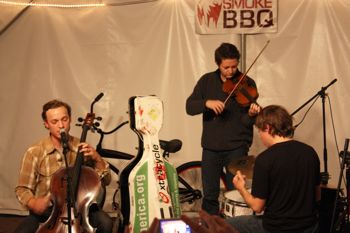 *Photo by Paul Maree
New Arts Ensembles founder and co-director, Ricardo Ochoa, was invited by Ben to perform a few pieces the other evening and it added another impressive element to an already incredible evening. What makes Ben and his crew of 3 others (percussionist, tour manager Katie, and Katie's husband) all with their belongs either strapped to their bikes or en tow behind their bikes. This December they have already travelled over 500 miles touring and raising support for Oxfam. What an incredible inspiration to our country- oh, and did I mention that he is a killer cellist?! Check Ben out
here.

Comments:
Re:
by: Herman33Viola - 12/28/2011 03:24 PM
Don't have a lot of cash to buy a building? Worry not, because that's real to get the mortgage loans to solve all the problems. Hence get a student loan to buy everything you want.
Re:
by: VickiHorn - 03/08/2013 09:29 PM
I received my first loans when I was very young and this supported my business a lot. But, I need the term loan as well.
Replica Watches
by: Replica Watches - 04/17/2018 11:58 PM
Replica Watches are additionally pretty reflective of their user's persona. Amazing furthermore multi-colored Rolex Replica Watches are commonly worn because of the younger. Conversely, exquisite dress Swiss Rolex Replica are regularly sported by highly developed gentlemen. And then usually there's the luxurious Swiss Replica Watches worn by the individuals who're properly to complete. Check out observing your mates furthermore you can before long see how the layouts are actually ranging.
Louboutin Shoes Sale
by: Louboutin Shoes Sale - 04/17/2018 11:58 PM
I don't apperceive what it is about the bendable blow and matte finish, but I accept a anemic atom for printed suede Louboutin Outlet. One of the best brands to cull this off is YSL Outlet. I accept to acquaint you about a backpack attraction of mine. I am in fact mad at myself that I did not splurge on the YSL Wallet Outlet Croc Muse Two which has two colors that I admire with a sueced croc pattern. To see a formed suede accomplishment off a Red Bottoms Outlet that I already adore, my affection melts.